Push through the crowd to the venue - Three Horseshoes, Southall
This pub landlord was revered by all members of the diverse community he served. He's been forgotten but we can learn a lot about inclusion from his simple philosophy
You can pre-order Desi Pubs - A guide to British-Indian Pubs, Food & Culture here
Thanks for reading Episodes of My Pub Life! Subscribe for free to receive new posts and support my work.
The newsletter on lost pub the Windmill the week before last was from the point of view of a visitor stumbling into a venue that was sleepwalking through its final throes. Luckily, I spoke to Libby Bradshaw who was able to bring alive how vibrant it was in its heyday but when I was there I sensed that the party was over long before the Windmill was shuttered. 

I may have drunk a few African Guinnesses with its regulars but its glory days had faded and its quiet vibe made it feel more museum than boozer. This week's pub, the Three Horseshoes, is all about the busy days, the memorable hours and the rowdy, vibrant sessions that live long in the memory. 

However, they're not my memories as I never visited it in the noughties as Southall, as I explain in this essay [includes accounts of racist slurs, discriminatory language, violence, and suicidal ideation], was always out of my reach and intangible.

In those days, I found desi culture alienating because it wasn't part of my upbringing as I was told firmly I was British by my socially isolated Malay mum and "double desi" (Singapore-born, Indian origin) dad. I hadn't yet been to the Blue Eyed Maid in Borough, the Regency in Queensbury or even set foot in Smethwick.

But Southall was - and is - one of the most vibrant parts of the UK and the Horseshoes was part of its DNA until its closure in 2016. It also is a great conduit for me to explore what a desi pub is. Because in spirit it was one of the best desi pubs in the country with punters travelling from as far as Birmingham to take in its unique atmosphere. 

The Horseshoes is the only pub people would call Indian despite the landlord (from 2001-2004) being white. But this wasn't any ordinary publican and he's someone we can all learn from when it comes to diversity and inclusion. In many ways he's a forgotten hero who left the pub trade and now sells mattresses in Australia.

His name's Gerry Godbaz and I'm very proud to, finally, introduce you to him.

---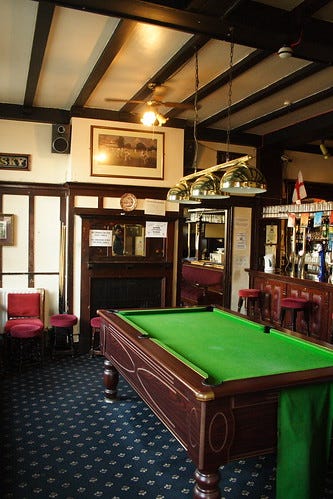 "It's been a running joke for a while," says Gerry, who was dubbed "Gerry Singh" by some of his customers. "That when we had the flags up for St Patrick's day, I'll then turn them on their side and put the wheel in the middle [for when India were playing in the cricket].
"But it's not true! They always thought I did it so I just went along with it."
Gerry then laughs heartily and is more than happy to confirm or deny anecdotes like this even though they might have been embellished by his cheeky former punters. His sense of fun - and love of the pub - hasn't diminished over the years and his effervescent Kiwi accent makes me believe that this was a special time for a unique individual.  
The Irish flag might be a gag at Gerry's expense that teases him about how he tried to court the punt as well as the rupee but it shows how mixed Southall was then. The truth about the flags might be murky but the reality is Gerry was much loved by British-Indians, the Irish and beyond.
I say beyond because Gerry at one stage held what he calls a pub working bee, giving free beers to his customers in exchange for clearing the beer garden up. The result was eight park benches and a BBQ that was commandeered by the Zimbabwean "boys" who used it as their braai. 
They cooked chops and chilli and shared it with the customers. "I'll send them down to the butchers with £30 and they'll put in £30," Gerry says.  
He worked all around Europe, set up a hostel in Romania and travelled across Australasia but he believes nowhere he's been compares to Southall in terms of vibrancy and multiculturalism. 
He had no qualms in taking over the Horseshoes when he worked for the owners, management firm Pubs and Bars - he was seen by the firm as a safe pair of hands they'd call on when someone was sacked or needed relief. He would then run these venues on an interim basis.
"It was put on the table," he remembers. "As 'come and have a look and see what you think' and I thought 'this is pretty cool', it's pretty different and the locals seem quite warm.  
"I thought 'we're going to have a bit of fun'. What I loved about it was that it was an absolute melting pot: Indian, Pakistani, West Indian, older gentlemen from Somalia, Irish nurses. Probably the less frequent [customer] was [white] English." 
---
You might be asking yourself how can the term "desi pub" or "desi landlord" be twisted to include Gerry? The reality is the phrase "desi pub" was a media invention and first came to prominence when local TV news stations got wind of the Indian diaspora setting up their own drinking spaces. 
They'd feature the "phenomenon" through the white lens of newsrooms of the time with a presenter venturing into a pub like he was on safari - which is both classist and racist.
Steve Sailopal, in the 80s and 90s, first saw one of these news reports when he frequented places like the Century Club (which I'll be exploring in further detail next week) and Bollywoods in Forest Gate . He had never heard the term used by anyone and, of course, would never say "fancy a pint down the desi pub?". 
"There used to be some serious plates of kebabs," he says. "Mohammed Rafi on the speakers. The East London crowd used to pack it out and we did make our fair share of noise there.
"In the 80s these were the only places Asians could go without getting any grief."
He also confirmed that even then white people would drink there - and would often dance to bhangra music - which makes the TV coverage I mention unreliable as a source. (Maybe their lightbulb dancing was a bit too cringe for primetime?) 
The truth is desi pub culture hasn't really been covered much because journalism - and particularly beer writing - is still a white, middle-class pursuit. 
The Beer Diversity Grant I helped set up tried to address this but it still was stark how few writers of colour applied. That's not to diminish the urgent stories of the three great writers who won, it's just a systemic problem connected to wealth, class and access to education.
You can then see why, as a prominent writer of colour, people ask me to give a hard definition of what a desi pubs is. The truth is there isn't one.  
I've interviewed an Asian man who used the term to mean "pubs that Indians drink in" but plenty of Indian pubs I've visited in have an amorphous clientele, such as the Three Tuns in Slough which in the day can be skewed towards white office workers and then at night and weekends is more desi heavy. Does this mean it's only a part-time desi pub under his definition? 
Also this guy was so militant that I imagine his eye twitching like Herbert Lom in the Pink Panther at the idea of a white Kiwi being an honorary desi landlord even though it fits his own criteria. (And if I was being facetious then under his definition my local Spoons would be a Jamaican pub).
My interpretation of a desi pub is an establishment where a British-Indian has stamped their culture on the place. The Horseshoes was run by a white guy but he ensured desi culture was at the forefront at all times and allowed the locals to stamp their identity on the pub.
"The bhangra music," Gerry says. "Was a great success and kept our regular punters extremely happy. There were a number of youngsters who told me how good they were so I gave them the opportunity. 
"They'd be times about five guys would be behind the turntables, putting their two cents in and having an absolute ball. What did it do for business? It brought more people in."  
---
One of the regular gangs in the Horseshoes was the editorial team of Snoop, an Asian lads' mag. "It was great reading," says Gerry. "Great reading for any culture."
A former colleague of mine Saptarshi Ray was part of the Snoop group and he loved the pubs of Southall which even in the relatively modern noughties were frozen in time. 
"It was like walking into pubs in the 70s and 80s," he says. "They weren't the most glamorous places to go but they had a good community.
"You didn't want to miss out on a night as something really funny would happen and you'd hear about it the next time you're in. 
"Gerry really took to it and put on a lot of weight because of his love of kebabs!"
After travelling around the country with still more destinations to reach in order to compile a guidebook to desi pubs I can truly say: "I feel Gerry's pain!" 
The headline is a line taken from the Ms Scandalous & Panjabi Hit Squad track 'Hai Hai'. They hailed from Southall and her lyrics from about 2 mins 20 secs give you great insight into her life and philosophy.
Other writing
This week I had this published by the Wellcome Collection on 'the significance of safe spaces as refuges from racism' which is particularly apt in the light of Gerry's philosophy to pubs. It also explains how some of the anti-racism work I've done as well as my journalism can be very traumatic. Also amazing photography from the great (and lovely) Steven Pocock. I love working for these guys because they are so empathetic when editing these kind of personal pieces.
When I relaunched this newsletter at the start of the month I highlighted how Marple, in Greater Manchester was a difficult place to visit at Christmas because of family conflict. This piece I wrote for Ferment headlined 'Stronger Community' focuses on the three pubs I like there which are different and try to foster inclusivity.
Thanks for reading Episodes of My Pub Life! Subscribe for free to receive new posts and support my work.